Top 10  midrange lodges in Ngorongoro coservation area
The top 10 midrange lodges in Ngorongoro Conservation area that you absolutely cannot miss when visiting the park are listed below. These include several mid-range lodges that can accommodate your needs without breaking the bank. Before you make a choice, you can find out here what satisfies your needs.
The top ten Ngorongoro safari lodges and camps are not located inside the crater itself but rather in a convenient area near the natural beauty. These lodges can be found both inside and close to the Ngorongoro Conservation Area, with the majority of them being in Karatu Town. Amazing views, locations, services, and food are all provided by mid-range Ngorongoro Crater lodging, though not to the same extent as luxury safari lodges. Here are our top 10 picks of the best Mid-range lodges in Ngorongoro:
COUNTRY LODGE KARATU
Country Inn is the excellent mid-range lodge situated on the outskirts of Karatu, a vibrant rural community only a short distance from the Ngorongoro Conservation Area. Due to its strategic location halfway between the Ngorongoro Conservation Area and Lake Manyara National Park, the lodge is situated in the town of Karatu at the Great Escarpment and is therefore perfect for both locations. The lodge is also perfect for people visiting Tarangire National Park in the morning until later in the afternoon, especially if Ngorongoro Crater or Serengeti National Park are your next stops. This illustrates how well the lodge is situated.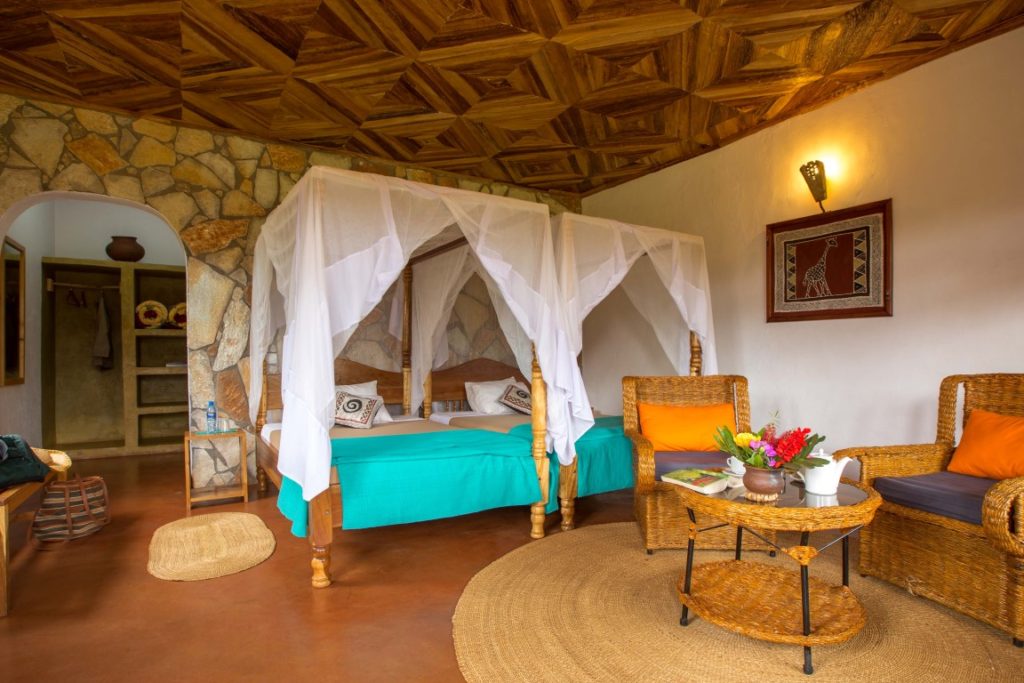 The local Bougainvillea Safari Lodges, who also own Sangaiwe Tented Lodge, Bougainvillea Safari Lodge, and Lake Eyasi Safari Lodge that are part of the same portfolio, own and run Country Lodge, one of the nicer upper mid-range lodges and camps. Since they are all locally owned and run, the community directly benefits from them.
The lodge currently has 22 rooms, making it perfect for large groups. There are two rooms in each of the lodge's eleven cottages, for a total of 11 rooms. The rooms have king-sized beds in the double rooms, twin bedrooms with two beds inside, and triple bedrooms, which are perfect for couples traveling with an adult or child on their own or by themselves.
Due to its proximity to the conservation area, some people refer to the Country Lodge Karatu's rooms as the Country Lodge Ngorongoro. The rooms are tastefully decorated and include bedside tables, lamps, and comfortable beds (all of which have mosquito netting to keep bugs at bay). Due to their highland location, the cottages have fireplaces. On chilly nights, you can ask for your fireplace to be lit so that you can return from a sumptuous dinner to glowing warmth in your room.
Each bathroom in this lodge's rooms is individually designed with lovely local stone, keeping your tired feet cool and refreshing. The rooms have a private veranda (balcony) where you can unwind after a wonderful day of game viewing in Tarangire, Lake Manyara, or Ngorongoro Crater while reading a book or chatting.
NGORONGORO WILDLIFE LODGE
Is it really necessary for it to be so pricey for me to enjoy it? Not at all, no. The Ngorongoro Wildlife Lodge may be worth a try. Arusha is 185 km away; Lake Manyara Wildlife Lodge is 60 km away; Seronera Wildlife Lodge is 145 km away; and Lobo Wildlife Lodge is 225 km away. The lodge's elegant construction of local wood and natural stone helps it blend in with its surroundings and offers 80 rooms with stunning views.
The Ngorongoro Wildlife Lodge has 80 spacious rooms with beautiful decor and stunning views. Each room has an en-suite bathroom, central heating, and mosquito netting over the air vents. One presidential suite, three junior suites, twin rooms, double rooms (with one double bed), and a total of 80 rooms are available.

NGORONGORO FOREST TENTED LODGES
The Ngorongoro Forest Tented Lodge is conveniently located on Tanzania's northern safari route. It's the ideal stopover between the two because it's close to Lake Manyara National Park and the entrance to Ngorongoro Crater. The lodge is located two hours' drive from both Lake Eyasi and Lake Tarangire National Parks. It provides 12 tents with bathrooms under an acacia tree canopy. The double, triple, and family tents are all roomy and fully furnished, and they are all connected by a wood walkway. The hotel offers facilities such as:
Restaurant and dining room
Swimming pool
Complimentary coffee and tea station
Professional guide
24/7 security team and standby generator
View point Banda
Free wife
Ensuite bathroom with Jacuzzi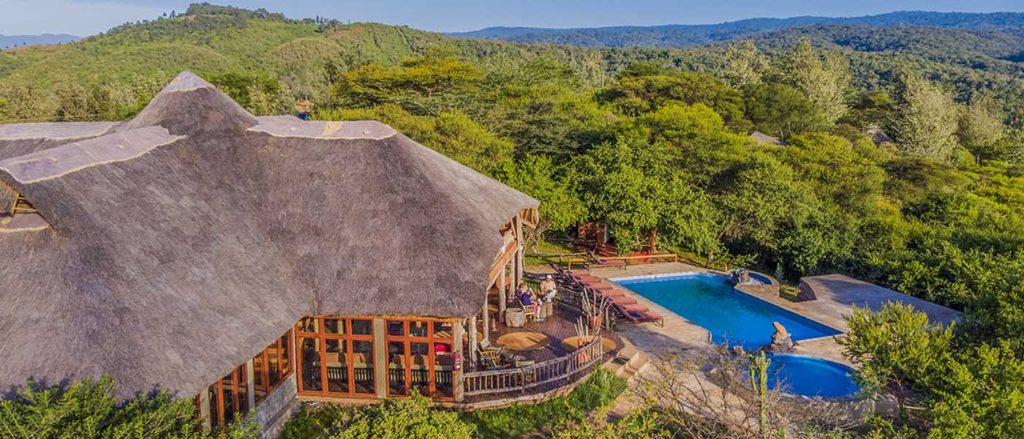 OCTAGON LODGE
Octagon Lodge is the ideal starting point for some of the most diverse safari experiences in the world, including the renowned Serengeti National Park, the breathtaking Ngorongoro Conservation Area, Lake Manyara, and Tarangire National Parks. It is situated in northern Tanzania, 190 km from Kilimanjaro International Airport, 140 km from Arusha, and 15 km from the entrance gate to the Ngorongoro Crater. The 'Big Five' animals of Africa are concentrated in the northern circuit, one of the most stunning regions of the continent.
The lodge has 15 well-appointed rooms with private bathrooms that were built with wood and stone. These rooms allow you to unwind while taking in the stunning views of the surrounding gardens, wildlife, and other elements.

NGORONGORO SERENA LODGE
Serena Safari Lodge at Ngorongoro is situated in a breathtaking location on the rim of the historic Ngorongoro crater. It serves as a starting point for extraordinary journeys and adventures. It offers a variety of activities, including guided nature walks and game drives on the Crater Plains. Visits to Maasai villages, cattle markets, and bush dining And a whole lot more.
One suite and 74 guest rooms are available at Ngorongoro Serena. It combines the Ngorongoro Crater's immense size and unfathomable beauty. With unmatched comfort and service standards. Brass lamps and embossed leather headboards can be found inside. Maasai carvings, wildwood mirrors, and stylized cave paintings Modern comfort improves the guest experience.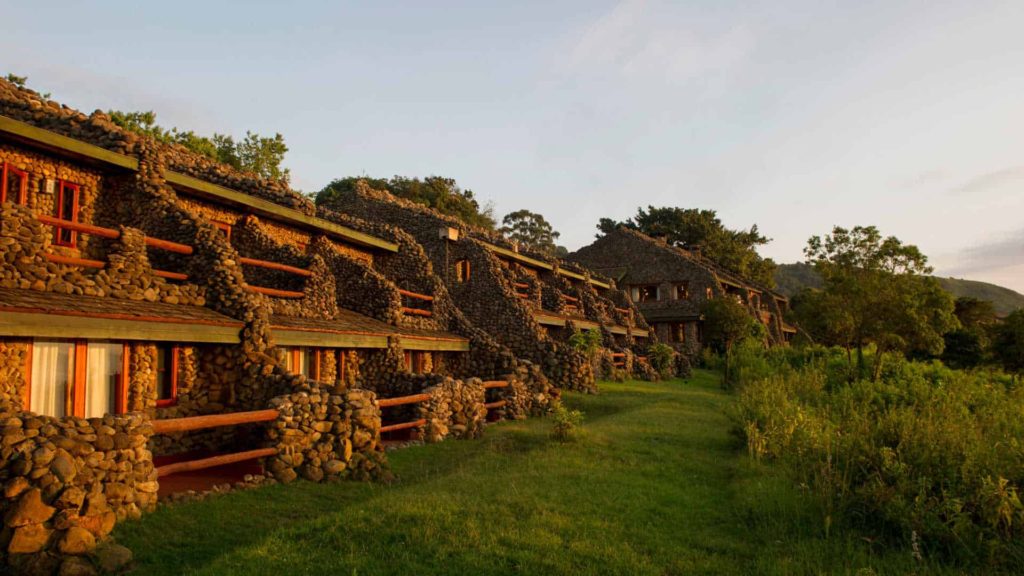 FARM OF DREAM LODGE
The Farm of Dream Lodge is situated in Karatu, a popular tourist destination, on the western south slopes of the Ngorongoro Crater, at a height of 1,400 feet. A flower and vegetable garden surrounds the lodge. The property provides breathtaking, far-reaching views of the hills. Lake Eyasi, Lake Manyara, Tarangire National Park, and Ngorongoro Crater
 The inviting rooms have views of the tropical gardens and reserve. The spacious bathrooms with en suites have WCs. Showers, sinks, and opulent toiletries are provided. The bedrooms have doors leading out to a terrace with a table and chairs.
There are twelve villages at Farm of Dream Lodge, each with 48 double rooms and superior rooms. In the center of the notorious Karatu town, built in one of the best spots it provides a variety of amenities, such as wireless Internet connectivity and a telephone. Lounge, bar, and restaurant.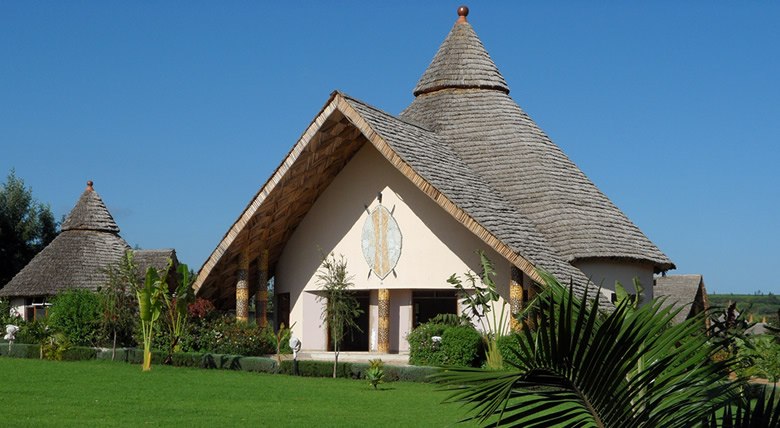 HHANDO COFFEE LODGE
In the volcanic highlands of Tanzania, close to the gates of the Ngorongoro Crater, a World Heritage Site, is the new lodge known as Hhando Coffee Lodge. It is situated on 15 hectares of a coffee farm. Because of this, Hhando Coffee Lodge is a great place to visit this unique volcanic nature reserve. 10 cottages and 3 family bungalows are available at this lodge. Each lodging offers a fireplace, veranda, bathroom, and stunning views of the coffee farm.
You can take advantage of a variety of amenities while staying at Hhando Coffee Lodge, including the restaurant's mouthwatering food and expansive views of the Ngorongoro Game Reserve, the swimming pool, laundry service, a bar serving up excellent drinks, room service, and barbecues (upon request). You can fully savor nature at Hhando Coffee Lodge. Enjoy the wildlife from the comfort of your own veranda. Of course, if you want, you can also go to the coffee plantation.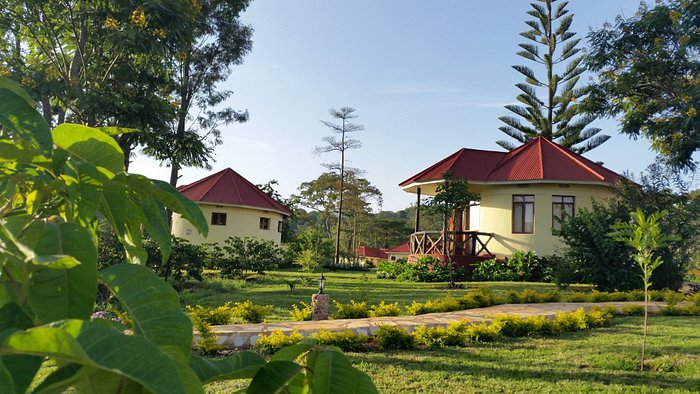 NGORONGORO TORTILIS
The Ngorongoro Tortilis tented camp is housed within the Ngorongoro conservation area and features cozy rooms with private ensuite bathrooms. Excellent views can be enjoyed from this camp, which uses solar energy for continuous electricity.
 The Ngorongoro Tortilis Camp is a unique oasis that is tucked away at the bottom of a valley beneath a forest canopy. It is a very magical place of dappled light, surrounded by the lushest green vegetation, and it is alive with the energy of this high-altitude wonderland. The camp consists of 10 roomy tents with all the amenities you could possibly need. The tents are dispersed throughout the tree canopy.
There are lots of fun things to do at this turtle camp. Join the Maasai staff on a hike up Mount Makarot, a steep and challenging challenge with a peak over 3100m, and when you arrive at the top, enjoy the rewards with breathtaking views of the Serengeti, a peek inside the Ngorongoro crater, and, on a clear day, Mount Kilimanjaro in the distance.
 NGORONGORO MARERA MOUNTAIN VIEW LODGE
This Karatu lodge has bridges spanning between the main structure and the cottages, which are perched on a hillside. There is also a restaurant, a main bar, a pool area, a garden bar, a game room, and a curio shop where you can unwind and have fun.
Location: The lodge is only a 20-minute drive from Karatu's main town in the Marera Valley, specifically on Rhotia Valley Road. The distance to the airport at Lake Manyara is 14 kilometers.
There are six guest rooms available at Ngorongoro Marera Mountain View Lodge, including twin, double, triple, and family suites. There are 14 rooms, each with a desk with tea and coffee making supplies, fresh bed linens, mosquito nets, a large bathroom with a shower, bathtub, double sinks, and a hair dryer, a safe, a fireplace with cozy chairs, a veranda, and a private garden with breathtaking views.
Views: The lodge provides breathtaking views of the front gardens, Marera Valley, Ngorongoro Forest, and the distant cone-shaped hills.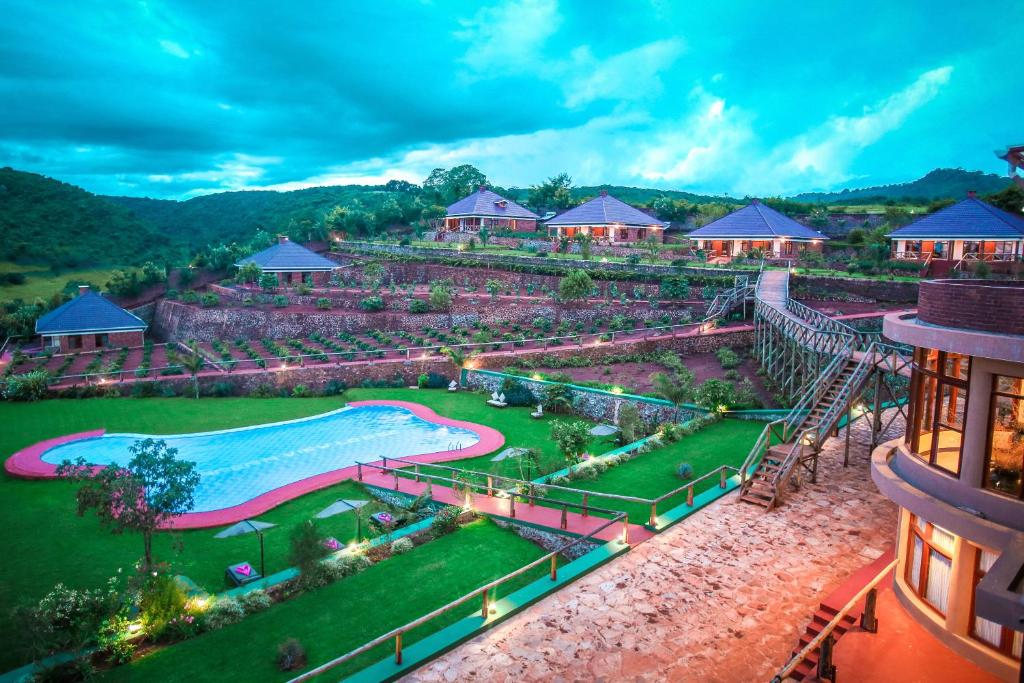 Level of the surrounding wilderness: moderate although you are still in the wilderness, there is not a lot of wildlife close to the camp, so you might not always hear it at night.
Food (based on client feedback): The majority of clients gave the food positive reviews. There are many choices, including Italian, international, and regional cuisines.
NGORONGORO OLDEANI MOUNTAIN LODGE
A 40-acre property with breathtaking views of the Ngorongoro Highlands, Lake Eyasi Corridor, and Oldeani Mountains, the farmhouse-styled Oldeani Ngorongoro Mountain Lodge is located in Karatu, less than 10 kilometers or 15 minutes by car from the Ngorongoro Lodoare gate.
50 suites total, including 24 Deluxe Twin Suites, 24 Deluxe Double Suites, and 2 opulent 2-Bedroom Villas, are available for guests to stay in at the lodge. All of the suites have panoramic views of the neighborhood. Each room has a private verandah, an indoor and outdoor shower, a slipper bath, air conditioning, and a television with cable, Wi-Fi, a minibar, and modern guest amenities. All rooms are tastefully decorated.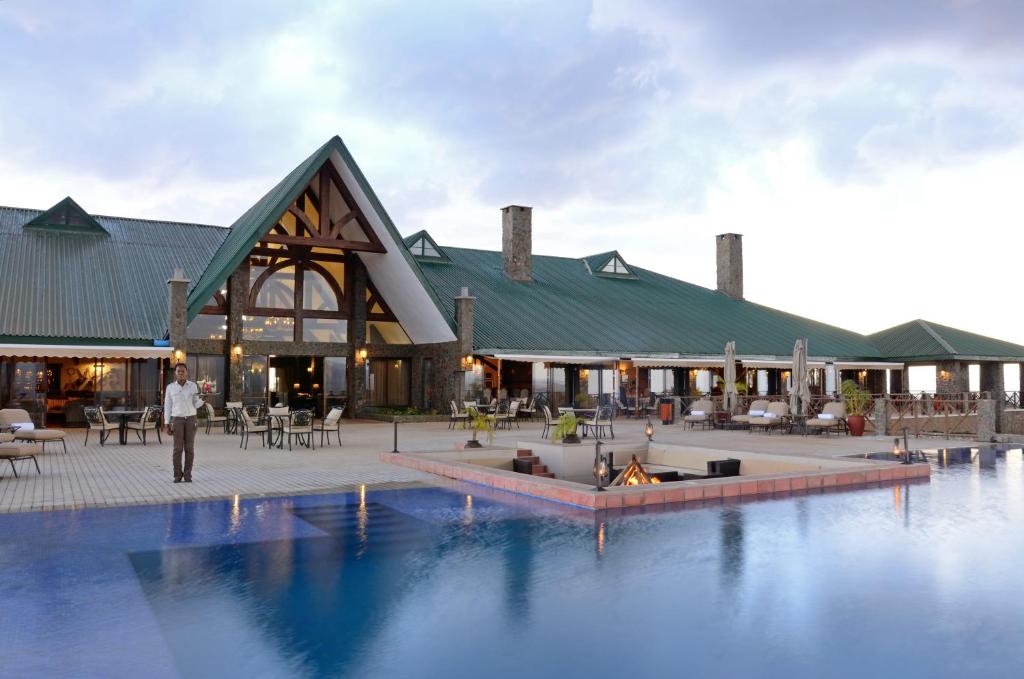 Facilities and Services: The restaurant, lounge, bar, and reception are all located in the main building, which also has indoor and outdoor seating with views of Oldeani Mountain. The secluded bush ravine offers a ravine dinner experience as an additional dining option.
 Additional lodge amenities include a banquet room that can accommodate up to 50 guests, a swimming pool with a rim flow, a gym and spa, a gift shop, an outdoor fire pit, an internet café, public Wi-Fi, a pool table, and board games. Nature walks, mountain biking, sundowners, evening traditional dances, visits to the nearby village, and cultural activities are all available at the lodge.