Horse Riding in Arusha
Horse Riding in Arusha
Horse Riding in Arusha : How could you possibly overlook something as beautiful as Arusha horseback riding safari while making memories on a Tanzania safari trip? In the past, it served as a means of transportation to many locations around the globe. So, how about riding a horse while viewing some zebras, giraffes, and other grazing animals? On your Tanzania safari tours, you can have these experiences and more.
While safari exploration in a 4X4 vehicle is the more popular style, Select Adventure Safari has introduced the chance to safari with a distinctive style. This is specifically made for our visitors, who demand unique experiences. With Arusha horseback riding safari, you can discover the region's unmatchedTanzania  beauty, diverse natural heritage, and more in the most recognizable manner.
Join the Horse Riding Safari in Arusha and indulge your sense of adventure. On your Tanzania safari tours, become one with the landscape as you leisurely trundle along to witness the world's greatest natural spectacle, the migration of a million wildebeest.
HORSE RIDING EXPERIENCES IN ARUSHA
You can see wild animal species like the black and white colobus monkey, flamingos, and numerous birds while on a horse safari in Arusha National Park. Elephants can be found, and riding a horse and exploring them is a must.
The day ride departs from Ngongongare Gate, and you will tour the park's lower area. The main objective of horseback riding is to view scenery and wildlife, and because of the terrain and dense forest, the riding pace will be rather slow. You will cross the Little Serengeti on the route, which is frequently home to buffalo, giraffes, zebras, and antelope.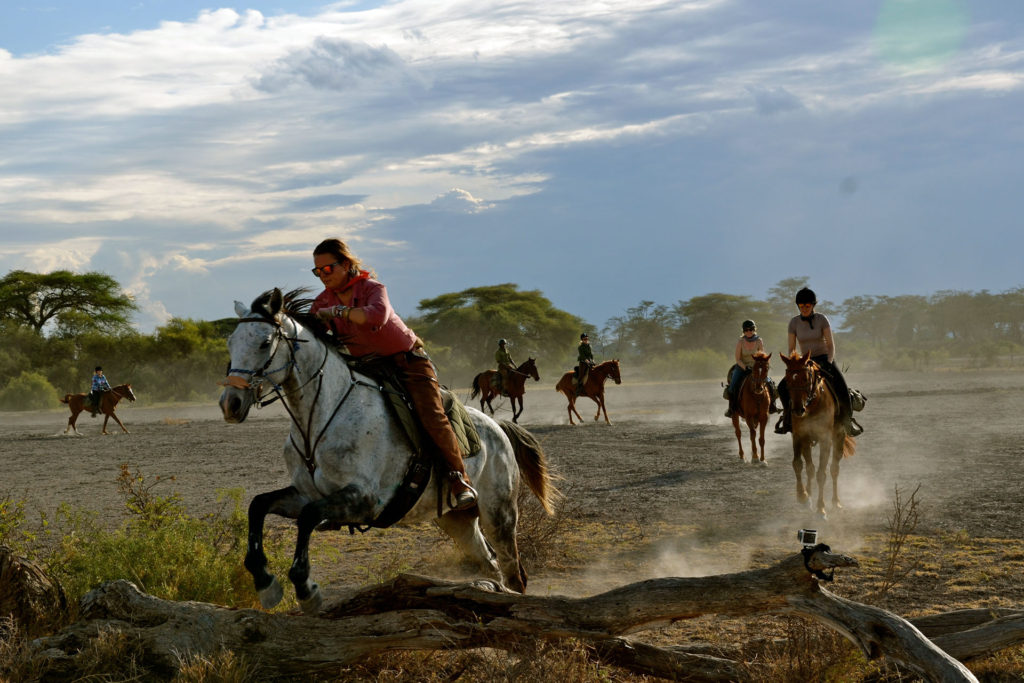 Whether you are an experienced rider or a complete beginner, everyone can participate in the ride, which takes place at Arusha. The activity may also be planned in another location, such as a different country, if you so choose. It is also frequently carried out in the Longido area, Wildlife Estate or at Lake Natron.
Even those who have never ridden a horse before can enjoy a leisurely hack along dusty trails where wildebeest and antelopes graze happily. Exploring the winding paths under the guidance of knowledgeable guides will allow you to see a variety of wildlife, including zebras, wildebeests, elands, and other gazelles and antelopes. One of Tanzania's most beautiful and endangered mammals, the Gerenuk, is frequently spotted while on a Tanzania horseback Riding safari.
Run across the plains alongside giraffes and zebras as you get up close and personal with Tanzania. On a horseback safari, travel off the beaten path. Riders at all skill levels, including beginners, can participate in this activity. It is a fantastic opportunity to learn about and experience Africa.
You can explore virtually unexplored areas of Tanzania's national parks, see animals up close, and experience a sense of oneness with nature by going on a horseback safari. Depending on your riding abilities, there are a variety of different routes available. As all safari guides are highly qualified, professionally trained, and knowledgeable about the local flora and fauna, you can rest assured that you will have an excellent time. The best time to book a horseback safari across Tanzania's vast wilderness areas is from late June through October, when horseback safaris are at their peak.
We provide 2-hour rides (depending on pace), morning rides, and afternoon rides. The rides depart in the morning at 8 a.m. and in the afternoon at 14 p.m. Although we can be flexible with timing, these are the best times of day to ride a horse through the wilderness.
HORSE RIDING IN ARUSHA WITH SELECT ADVENTURE SAFARI
We provide easy hacks along dusty tracks where wildebeest and antelopes can be seen grazing peacefully for those who have little experience riding horses. Our knowledgeable guides will take you along winding paths where you'll have the opportunity to see a variety of wildlife.
Depending on your pace, horseback riding is available in the morning and afternoon for about two hours. The rides depart in the morning at 8 a.m. and in the afternoon at 16 p.m. The best time of day to ride a horse through the bush is during these hours, so you can fully take in the scenery.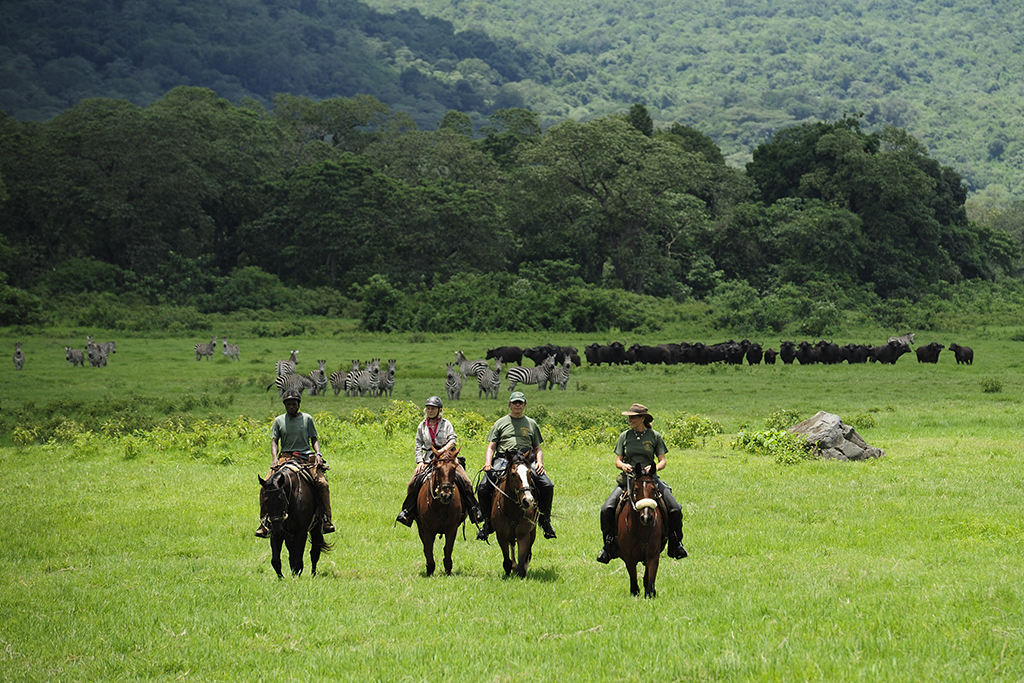 We have options for combining your ride with lunch or dinner at the nearby polo or golf club if you want to make your adventure a half-day outing. As an alternative, you could take pleasure in a cool sundowner while admiring Mt. Meru and Kilimanjaro. The stables are conveniently close to both clubs, making it simple to extend your experience and unwind in the picturesque surroundings.
OTHER BEST PLACES FOR A HORSEBACK SAFARI IN TANZANIA
 Serengeti National Park
Use a horse to ride through some of the Serengeti and the Ngorongoro Conservation Area habitats. Riding through some of the Serengeti's most unexplored areas is a fantastic way to indulge your sense of adventure and venture truly off the beaten path.
Catch a glimpse of the wildebeest and zebra moving from the Masai Mara back to the Serengeti's grassy plains. You must be ready to travel to the migration by car if the areas near the campsite are dry because the herds' movement depends on rainfall.
Giraffe, zebra, elephant, and a lot of plains game are all likely to be present, as are some big cats if you're lucky. Your guide will be a skilled, professional, and knowledgeable individual who has a thorough understanding of Tanzania's flora and fauna.
Lake Natron.
Millions of flamingos call the pink soda lake in the Great Rift Valley, located north of the Ngorongoro Conservation Area, home. The area looks even more beautiful as you travel across vast plains teeming with wildlife in traditional Masai bomas.
 Those animals that are not adapted to this highly alkaline lake calcify and mummify, which results in their deaths. But there are also over two million pink flamingos living around the lake. Oldonyo Lengai (Mountain of God), the only active volcano in Africa, is a decoration on the Natron.
Kilimanjaro National Park.
Discover some of the planet's last remaining wildernesses as you join a herd of galloping zebra, sneak up on a chewing elephant, or marvel at a tall giraffe. You will have the opportunity to explore this region, which is situated between Mount Meru and Mount Kilimanjaro, the highest points in Africa. From the "little Serengeti" in Arusha National Park through Masai land to the edges of Kilimanjaro National Park, we will explore the West Kilimanjaro wilderness where the terrain permits.
WMA (wildlife management areas).
In Tanzania, the village communities own and manage these kinds of protected areas. Due to their proximity to Tanzania's national parks, these WMAs are home to some incredible wild animals. Some of these WMAs allow for horseback safaris. Horseback riding is permitted in some WMAs, including the Enduimet WMA, the Singita Grumet game reserve, and even the Loliondo game-controlled area.
FREQUENTLY ASKED QUESTIONS (FAQs) ABOUT HORSE RIDING IN ARUSHA
What's the experience of a horseback riding safari in Arusha?
A unique way to experience Tanzania's wildlife and landscapes is through a horseback safari. You can get closer to the animals while riding a horse than you would in a car, and you'll have the chance to visit places that aren't reachable by car.
Do I need to be an experienced rider to go on a horseback safari in Arusha?
Prior to going on a horseback safari in Tanzania, it is advised that you have some riding experience. However, both experienced and inexperienced riders can take a safari. Before making a reservation, it's crucial to discuss your level of experience with the safari company.
What should I wear on a horseback safari in Arusha?
It is advised that you dress comfortably in breathable, season-appropriate clothing. You should wear long-sleeved clothing to protect yourself from the sun and any insects. To prevent your foot from slipping through the stirrup, you should also wear supportive, closed-toe shoes with a small heel.
What types of animals can I expect to see on a horseback safari in Arusha?
Elephants, lions, leopards, zebras, giraffes, and many other species can be found in Tanzania. The kinds of animals you'll see will vary depending on the location you're in.
Is it safe to ride a horse in the wilderness of Arusha?
Safaris with horses are usually risk-free, but it's important to listen to your guide and follow the right safety procedures. Our safari guides take your safety seriously and will give you all the tools and instructions required to have a safe and satisfying experience.
When is the best time of year to go on a horse-riding safari in Arusha?
The dry season, which lasts from June to October, is the ideal time of year for a horseback riding safari in Tanzania. The animals tend to gather around water sources during this time because of the mild weather and easier visibility. However, there are always horseback safaris available.
How long do horseback safaris in Arusha typically last?
Depending on the specific safari you select, the length of a horseback riding safari can vary. Safaris can last anywhere from a few hours to several weeks, depending on the itinerary. To find a safari that meets your needs, it's crucial to discuss your preferences with the safari company.
What is the accommodation like on a horseback safari in Arusha?
Depending on the specific safari you select, lodging on a horse-riding safari can vary. While other safaris may involve staying in lodges or campsites with more amenities, some may involve camping in tents in remote locations. Before making a reservation, it's crucial to go over your preferences with the safari company.